Platinum Pebble Boutique Inn:
A Rare Find on Cape Cod
by Nicola Burnell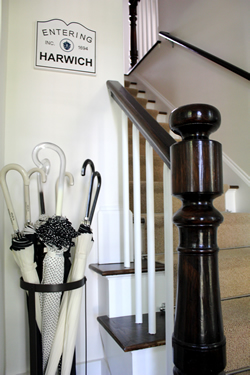 When Annabelle Hunton decided she was ready for a career change she had no idea how quickly her transition would occur. A former Sales Director of Mary Kay Cosmetics, Annabelle had not worked in the hospitality industry before she purchased a sea captain's home (circa 1830s) on Belmont Road in Harwich, which had been licensed as an Inn since 1943.
Although new to the business, Annabelle wasted no time getting to work – she closed the Inn for the entire 2010 season for renovations. "I didn't want to try to run something that wasn't mine," she explains. When the Platinum Pebble Boutique Inn opened in April 2011, the formerly Victorian-styled accommodations had been transformed into a contemporary, European flavored establishment. Originally from Clapham, South London, Annabelle had spent twenty years traveling with her 'Scouse' husband, Simon, whose work took them all over the globe. When she embarked on her new career path she was looking for something they could do together. "He was away a minimum of two weeks per month. At some point we decided there's got to be more to life than this."
Identifying what they both wanted was their first challenge. "We knew we wanted to do an Inn or a B&B and were looking at different places," Annabelle recalls, citing Europe, especially Italy, as a potential location.
It was a return five-day trip to the Cape, in 2010, which confirmed that Cape Cod offered the kind of life Annabelle was looking for. "It was gorgeous weather and the Cape was much bigger than we'd remembered it. Maybe we were looking at it through different eyes, but it just seemed to be so much more than your typical American town."
She was especially excited about the variety of local bookstores, sandwich and coffee shops. "It had all of the things that are important for us in our down time."
No-one was more surprised than Annabelle when she fell in love with the last of many Inns on their realtor's list. "We'd been looking on historical Route 6A, because that's where the Inns are, then we saw this place. It had so much potential."
Neighboring businesses also impacted the decision to purchase the Inn, located within walking distance of several antique and locally-owned gift shops, Buckies Biscotti, the Ocean House restaurant and Reaching Heart Center, where Annabelle attends yoga classes. "We SO landed on our feet with where we are," she enthuses. "The neighborhood has been great for us."
The next challenge was to create a business plan that would prove successful in an area already saturated with hotels and motels. "I wrote my business plan, Simon wrote his, and we came up with the same thing."
Leaving corporate jobs to become self-employed was a huge career change for them both. "It happened so fast that we didn't have time to think about what we were actually doing. It wasn't as hard we thought it was going to be."
Annabelle navigated the purchase of the Inn from the Netherlands, where Simon was working. Flying back and forth to sign paperwork and meet with inspectors gave her the opportunity to stay at many Cape Inns. She soon discovered a gap in the market.