Where the Lighthouse Once Stood
by Kathleen Mueller
A little red-and-white wooden post was pummeled into the dune across the road from our Cape Cod cottage, marking the spot where Nauset Lighthouse once stood.
Fifteen years ago, or thereabouts, the actual lighthouse was cautiously moved across the road some 300 feet to preserve the iconic symbol so strongly associated with Cape Cod.
The little red-and-white post popped up towards the sky, and stood just about three feet tall, peeking out through the weeds atop the dune. You could see it from our house, and you could see it from down below if standing on the beach.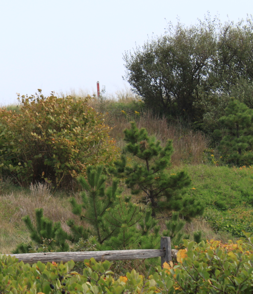 The red and white Lighthouse marker
It represented, to me, the place from the beach where our house was located, if only one were allowed, and strong enough, to climb over the dune instead of trudging the long half-mile back to the beach through sand, wooden stairway and blacktop.
I giggled to myself, an inside joke I shared with no one: that post is to Nauset Lighthouse what This Is Spinal Tap's replica of Stonehenge was to Stonehenge itself. A miniature caricature of a monolithic icon. The resemblance to that hilarious movie scene still makes me chuckle.
Laura was a modest older woman who had rented our cottage for family vacations for nearly three decades prior to our owning the property. Laura and I became pen pals (keyboard pals) via email after she wrote us a heartfelt snail-mail letter suggesting that we continue renting the house to her and her family of lovely females, and we agreed.
Laura and her family rented the house one week every summer for the first few years we owned the place. During the remaining fifty-one weeks each year, Laura and I would write emails to each other, detailing both of our lives through cyberspace.
We shared a love of the Cape Cod National Seashore, and the month of April. She was afraid of dogs, she told me, and allergic to cats. She had survived breast cancer not once, but twice. She had three daughters and a bunch of granddaughters. I suppose there were some extraneous men in the family; we never much talked about them.