What's all the Buzz?
by Diane Kovanda
Some teachers receive an apple or sweet little trinket from their graduating students. My class gave me a bee hive. Yes, they gave me 5,000 bees, a bee queen and all the materials to start a hive in my backyard. My mind was abuzz - what do you do when 5,000 bees arrive at your house?
It all began while I was teaching yoga to a group of yoga teachers earlier this year. I direct the Kind Yoga teacher certification program, and usually we have about 15 students each semester learning to be yoga teachers. We do everything from yoga postures to meditations, breathing practices, anatomy, physiology and mudras.
I have a feeling the graduates got the idea of gifting me a bee hive while I was teaching them "Bee Mudra." What is a Bee Mudra?
It's a practice in yoga – a specific way you position your hands, sometimes called a "posture" for your hands. The most common mudra you may be familiar with is anjeli mudra – which looks like hands in prayer.
There are hundreds of other mudras, and each one has a quality associated with it, the bee mudra strengthens your immune system.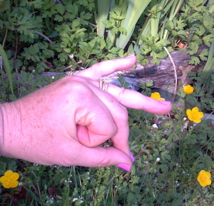 While teaching a class about the bee mudra and strengthening our own immune systems, I shared my concern for the immune systems of bees across the world. Their numbers have been dwindling due to use of common pesticides. Bees are prime pollinators of about one third of the crops in the U.S.
Although I am not much of an insect lover (I much prefer dogs), I wanted to give the bees a place to live in my back yard, and I intended to educate myself in the care of bees and giving them a good garden without pesticides.
Fast forward to graduation day. Liz Wiley, newly-certified yoga teacher, presented me with a gift certificate for a hive. WOW. I was completely speechless. Liz and friends had done the research and followed through on the best present I have ever received.
First, the packaged hive materials arrived by UPS – boxes upon boxes barricaded my front door. Once I put all the puzzle pieces together, the instructions said to waterproof the outside of the wooden box hive.
Every day for a week, I would give it another coat of water-based sealer. I didn't know when to stop, adding coat upon coat, wanting it to be a really nice waterproof home for the coming bees. I kept imagining them moving in with little suitcases and saying, "wow, Buzzy, nice dry place, queen's gonna love it!"
My friend North Cairn gave me a great book on bees by Sue Hubbell. I read parts of it religiously every night, along with other how-to backyard bee books. Sue is a beekeeper of three hundred hives in the Ozark Mountains. Her descriptions of beekeeping activities and love of the bees imparted some knowledge and understanding of bees.