The Red Blanket
by K.S. Mueller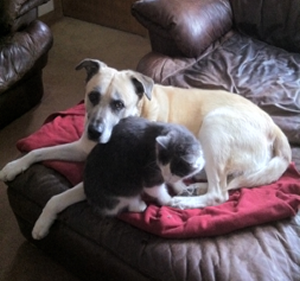 We covered Hector's stiff body with the red blanket that we kept in the basement. I carefully tucked all the corners underneath his body while we decided what to do with this big dog carcass.
Some time later, we decided it would be a good idea to let Hobie sniff, inspect and see Hector so he'd understand his pal was gone. I gingerly lifted the blanket and let Hobie check out Hector's stillness, as I continued to cry, uncontrollably.
Then the most extraordinary thing happened. I had gone to another part of the house, trying to keep myself busy, and I didn't see this occur, but Gil was right there and saw the whole thing. The arthritic Hobie, who during the preceding few years had great difficulty going up and down stairs, took hold of one corner of the red blanket in his mouth. He un-tucked its corners from under Hector's body and, within what seemed like only a minute, he pulled that entire heavy red blanket completely off Hector.
He took the weighty bolt of synthetic wool in his teeth and carried it up the basement stairs, dragged it across the living room, through the dining/music room, through the kitchen, out the sliding door, across the deck, down the back stairs and into the yard, where he then laid down and proceeded to chew on the blanket.
Gil attempted to take video of this incredible moment, but alas, funny how things work out, the camera was broken. Gil and Hobie shared this moment. I never saw a thing until Gil hollered for me to come quickly, and by that time Hobie was already in the yard with the blanket.