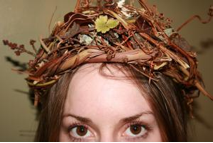 by Nicola Burnell & Tessa D'Agostino
Sometimes you just fall in love with the work of an artist. It's a physical, emotional and spiritual reaction to a piece of work that can begin a journey into the very soul of its creator. This happened to me when I first laid eyes on Tessa D'Agostino's sculpture "Freeing the Light" which was part of the "All about Seven" exhibit at the Cape Cod Museum of Art.
When Tessa saw her sculpture on the homepage of our Winter Issue she invited me to check out the construction of her latest work of art, an installation at the Cultural Center of Cape Cod, called "Origins of Existence."
Tessa wrote: "I will start by weaving a tunneled entrance using a series of 8ft branches. From the outside of the space the entrance will resemble a cave with a warm glowing light attracting viewers inside."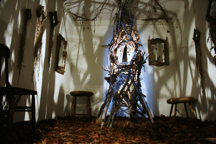 I kept reading. "In the center of the room will be a 6ft lighted sculpture woven with sticks, vines and driftwood. This will be the only light within the room which will cast branching shadows across the walls, ceiling, floor and the faces and bodies of those who enter." …
by Mary Ince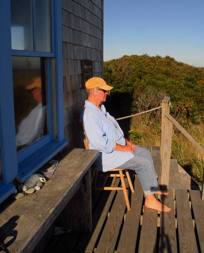 The waiting is killing me. This is the second year I've applied for the Outer Cape Artists in Residence Consortium (OCARC) program. They said my proposal of drawing silence in the Dunes was an intriguing one, but, last year was not to be. I'm hoping this is the year.
I had pretty much figured that this would not be my year either, when an email from the head of OCARC came offering Margo-Gelb Dune Shack for two weeks in either September or October. My Choice. Yippy! I chose September because I thought it might be a little warmer. Okay, now I can set the wheels in motion for my new journey. My mind is a swirl of activity just thinking about it.
Well, today is the day, September 14. I don't think that I've ever embarked on a journey (adventure) where I have been so unsure of what I will experience.
After being dropped off at Snail Road in Provincetown, I am picked up by the four wheel drive Peaked Hill Trust (PHT) truck, with its deflated tires, to begin the journey out into the National Seashore dunes of Provincetown.
Even though I have seen pictures of the dunes, their magic and awesomeness are overwhelmingly beautiful. Upon arrival at "my" shack: Margo-Gelb (aka Boris), I trudge my gear up the hill to claim my stay for the next fifteen days. ...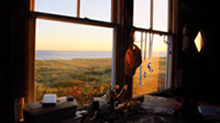 SEEING THE SILENCE
Exhibition May 4 – 17, 2014
Hudson Walker Gallery
Fine Arts Work Center
24 Pearl St, Provincetown, MA
Reception: May 9, 6 – 8pm
Artist's Talk: May 10, 4pm
by Kim Baker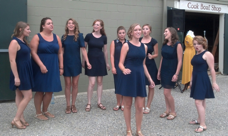 Take ten golden-toned voices. Put them in a house together on Cape Cod for the summer. Leave these female singing divas to doo wop, croon, ballad, pop sing, and beat box all day long. A cappella.
Then let them loose across the Cape in churches and on board walks, in nursing homes, schools, and at fundraisers singing their hearts out for locals, washashores, and visitors. We have even seen them strolling the cat walk at a fashion show!
Say hello to Cape Harmony! …
by Helen Jacobson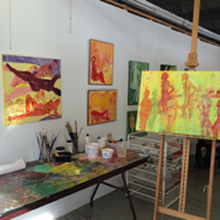 I have a painting studio on the third floor of an old converted factory building which used to house Waltham Mills, but is now home to the River Street Artists Cooperative.
The elevator is always out of order so I have to climb the stairs to the third floor. Although I may arrive breathing heavily, I am always happy to get to my floor and turn my key to open the main doorway in the hall. There's something in the air that makes me feel happy as I walk to my studio. This is my haven.
My studio is a rectangular shaped space that faces two sunny windows with a view of a nearby bridge over the Charles River. The space is shared by twenty artists on my floor, so I cordon off my work space with white shower curtains so that my neighboring artists can't see my unfinished work when I leave …