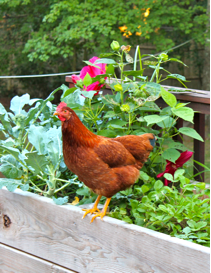 Cape Cod's first organic indoor/outdoor garden and micro-farm supply store
by Lindsay Cook
For as long as I can remember I have witnessed a growing disconnect with community, with nature, and with the production of our food.
We live in a time when the home-cooked meal eaten around the kitchen table is losing ground to fast food in the car; a time when our children are spending less time outside and more time in front of televisions and computer screens; a time when we are connecting on Facebook, but not connecting in reality.
Years ago, I decided that I wanted my life's work to be devoted to mending this disconnect. I wanted to provide a place for people to get together, share ideas, inspire one another, and support each other.
But that wasn't all. I wanted people to take this knowledge and inspiration home with them and use it to fuel their own projects that would help them produce food and connect with nature… locally, organically, sustainably …
eARThchange, a visual interpretation of the environmental, social and political impacts of climate change will be on display at Cotuit Center for the Arts, in the upstairs gallery, April 3 through May 4, 2014.
This exhibit features creative responses to climate change in the environment through works presented by theater and art students from Sturgis Public Charter School's East and West Campus, in partnership with the Cotuit Center for the Arts and Barnstable's Growth Management Department.
Under the guidance of their teacher Anna Botsford, the Sturgis students created their own puppets for the show and have embraced the activist nature of the Bread and Puppet Theatre format, which was founded by Peter Schumann in 1963.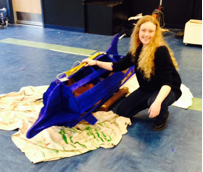 "This interactive art form has given voice to political and environmental protests from parades concerning the Vietnam War to challenging housing conditions in New York," explains Anne Healy, a junior IB Theatre student at Sturgis Charter School's West Campus, who is part of the Bread and Puppet Theatre presentation that explores the impact of pollution on ocean life, from seals to seaweed.
"Applying Bread and Puppets concepts to Cape Cod was not as difficult as it would seem, as the practice is a strong supporter of sustainable, environmentally friendly living that does not harm the Earth." …
by Janet Eckhoff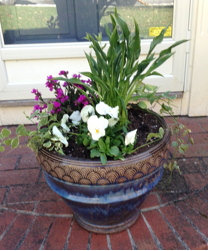 I recently read in Fine Gardening magazine that garden design is the slowest of all performing arts. Gardeners must have patience and sometimes wait years to see their work shape into something resembling their original idea. Spring is the time to dream and plan, but patience may be an over rated virtue.
When I return to the Cape after wintering in Florida, in mid April, I am mad to begin gardening. My head is spinning and I'm insane to get my fingers into the soil.
Every year I'm just shocked at what passes for spring on the Cape. It's way too early to really do anything beyond more cleanup and leaf mulching. Not what I - or you - have been day dreaming about.
I've been an avid gardener for thirty years, but last year I experienced a revelation. My next door neighbor, Mary, who has a gorgeous garden, invited me to the Yarmouth Garden club. The speaker demonstrated a dozen ways to plant pots in late April and early May, before we dare plant anything in the ground.
These pots deliver instant gratification rather than the longer term joy of creating your garden dream …
by Diane DiGennaro
The faucet knocks, groans
Hissing out cold water
into her glass
She gulps
Fills again
and savors this second glass
Water cold like
April stones in the brook …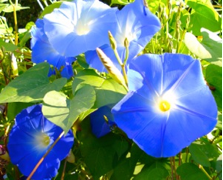 Photograph by Maureen Grandmont
ADVERTISE WITH C
W

O
Cape Cod's Green Magazine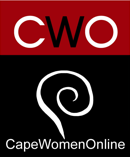 We publish five seasonal issues of CapeWomenOnline Magazine:
Winter Spring Summer Fall Holiday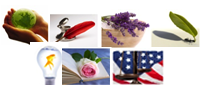 Click here for Advertising Rates
& Special Multi-Issue Offers